Tamagochi merupakan sejenis mainan kanak2 dan untuk dewasa pun okay gak..walaupun bagi aku kalau aku nampak orang dewasa main tamagochi aku akan -_-'" sbb macam takde life...
Korang still xtaw ag???
okay2...ni hah hambek..ttu lah tamagochiii...hehe...dulu aku punya macam ni lah sebijik...warna pun sama...fuh..agak ketagih...start main..komitmennya bukan main lagi...
adakah anda masih ingat bila anda pernah memilikinya???
aku ada tamagochi masa aku sekolah rendah..sebab yang aku ingat aku kat penang...masa tinggal kat dunnhouse penang beb..time tu lingkungan umur 6-9 tahun...alalala thomey...haha...teringat lak umah aku kat dunnhouse dulu...private je tempatnya..tapi permandangan balcony aku aku frust ckit...bukak sliding door mengharapkan suasana yang aman damai...aku nampak askar berkawat..ye..depan balcony aku ada kem askar...segan aku...*aku jelah...gatai*
Ni lah tempat tinggal aku dulu bila lingkungan umur aku seperti yang diberitahu...
Sekolah aku??
Methodist Girls School Penang..
Ni lah skolah aku masa aku stay kat penang dulu...
Aku nak gak ingat lagu sekolah ni..tapi yang bermain dalam fikiran aku cume lagu sekolah SMTMS aka SMT MUADZAM SHAH...hahahha
Okay2..berbalik kepada TAMAGOCHIIII
Aku ingat lagi dulu..komitmen aku terhadap binantang peliharaan aku sangat tinggi...cukup masa aku bagi makan...siap main dengan dia...comelll....
Ni antara image bila binantang peliharaan korang bila da dah besar..ley bagi dia ada hobby sendiri..yang ni main music..aku nya dulu aku tak ngat..tapi memang best...jaga dia sampai besar so that ley lawan dengan pemilik tamagochi yang lain...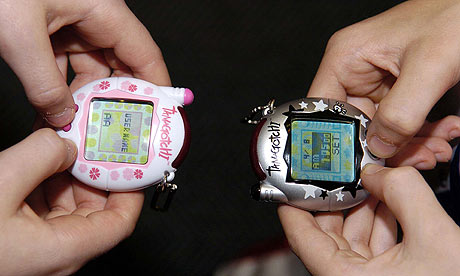 Hehehhe..memang tak boleh belah...agak kelakar...Tapi..org kata bila ada suka pasti ada duka...dukacinta bila binantang kita mati...ada kubur...kubur tanda palang skali...mula2 aku takut...dapat pulak mak aku yang suka takut2 kan aku
"tu lah..tak jaga...dia kacau nanti..padan muka"
-_-
Aku time tu takut...padahal ley reset je kalau nak main baru..hahaha
Agak scary..at the same time aku takut...yang itam kat atas tu pet kita jadi hantu...huhuhu
Okaylah...aku rasa takat ni je kot..aku nak prepare for tonight ag...PAINTBALL TOURNAMENT MALAM...yayayayayayyayyayay!
I'll tell all about it after the game...its gonna be a BLAST!
Yang bestnya...paintball ni waktu malam and the palettes are all glow in the dark...blogger yang join sume...c ya tonighttttt!